HERFIRSTDP DEE
CLICK TO SEE HOW DEEP SHE CAN TAKE IT DURING HERFIRSTDP
I DON'T THINK I HAVE EVER SEEN PUSSY LIPS STRETCHED SO BAD BEFORE.
FOR A GIRL WITH JUNK IN HER TRUNK YOU'D THINK SHE WOULDN'T BE SO
DAMN TIGHT! SHE SURPRISED US ALL. JUST GETTING HER PUSSY TO TAKE
THE TIP OF A COCK PROVED TO BE A TOUGH JOB. LUCKILY SHE GETS VERY
CREAMY WET WHEN COCK TOUCHES HER PRIVATES! ONCE THE JUICES
STARTED FLOWING GETTING TWO HUGE COCKS TO POUND HER HOLES
WAS A BIT EASIER. THE VIDEO REALLY SHOWS IT GREATLY HOW DEEP
HERFIRSTDP FRESH AND TIGHT FUCK HOLES TOOK TWO COCKS!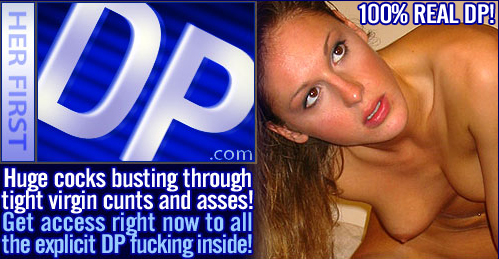 CLICK FOR LOADS OF EXPLICIT HERFIRSTDP SCENES
© HERFIRSTDP
2257 INFO HERE